Often people have asked me about my son sleeping 11 – 12 hours a night. Yes, touch wood, he does that pretty much every night unless sick. So, here is my little secret and of course it has to do with essential oils, right!!!
I diffuse any of the oils that effect relaxation – Valor, Lavender, or Cedarwood. Many people love and swear by Peace & Calm, but it has had the opposite effect on my little guy. It makes him more alert. If needed, I might apply a couple of drops of one of these on his big toes on his foot.
I have also made a lotion that I often use on my husband and I and sometimes on my little guy. Here is the recipe..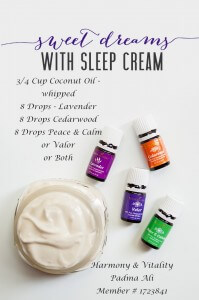 3/4  cup of coconut oil (optional – whipped up for a creamy consistency)
8 Drops of Lavender
8 Drops of Cedarwood
8 Drops of Valor or Peace & Calm or both.